With hearts full to overflowing, Valerie and I returned home last night from the hospital, bringing our precious baby girl, Abigail Renee Waller. She weighed 7lbs, 12oz, and measured 21″ long.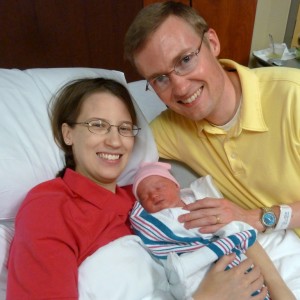 Abigail was born at 5:58 PM on Friday, September 6th. Valerie did an absolutely outstanding job as a first-time mom, working through about eighteen hours of active labor with a calm and stability that amazed the midwife and hospital staff.
Thank you so much to each one that was praying for us though these incredible hours. Never in my life have I gone through three days with so little sleep, but the grace of God sustained us each step of the way.
I look forward to sharing more of the specifics in how the Lord used your prayers, but first I wanted to share an initial post to let you know of Abigail's safe arrival, and that Mom and baby (and Daddy) are all doing very well and making a speedy recovery. Valerie's mother is staying with us for several days, allowing us a little more rest as we recover from the big event and adjust to life as a family of three!  🙂