It was the big night, the one for which they (well, Valerie anyway) had been waiting for several weeks.  Work was done for the day, dinner had been eaten and cleaned up, and the calendar had been kept clear.  With a batch of fresh gingersnaps just out of the oven and some music of the season playing in the background, it was time to begin.
"Begin what?" you say?  I guess I did leave out that important detail, didn't I?  🙂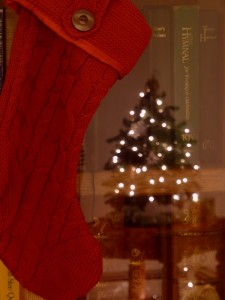 It was time to decorate the apartment for Christmas…their first Christmas together as a married couple in their own home.  🙂  While Valerie has helped to decorate the family home for years, she was really looking forward to decorating her little apartment this year and making special memories with her wonderful husband, Adam.
Out came the boxes with the Christmas decorations and the fun began.  They knew they didn't have a lot to work with but the didn't really know what exactly they did have.  They opened the boxes and began discovering together some old things made new by their new position in life and some new things received last year to be used for their first Christmas together.
One thing they had realized ahead of time was that, though they had a handful of ornaments, they didn't have a Christmas tree.  They had done some looking but most of the trees were too big for their little apartment and even the little ones were so expensive.  They were still hoping for a tree of some sort but nothing had seemed just right yet.  Then, as Adam was pulling things out of the boxes, inspiration struck.
"Honey, did you already have something in mind for this piece of garland here?" he asked.
"No," said Valerie, "I hadn't really thought about it yet."
"Would you mind if I used it for something then?"
"Go ahead." she replied.  "What did you have in mind?"
With a smile on his face and a twinkle in his eye, Adam replied, "A Christmas tree!"  He showed Valerie a very quick sample of what he had in mind and then got right to work.
Meanwhile, Valerie continued pulling out the few other little things she had stored away, including the ornaments that would now have a place to hang.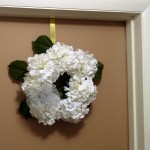 The one thing Valerie wasn't so sure about was the wreath on their door.  It was so summery but she didn't really have anything to replace it with…or so she thought.  As she rummaged through her boxes looking for something else, she was reminded that she had an old straw base for making a wreath.  With some extra tulle and flowers from their wedding, she got to work on making a new wreath while Adam finished working on making their tree.
Both finished about the same time and stood back to admire each other's new "masterpieces".  They pulled out a string of lights and then added their handful of ornaments…just exactly the right amount for their little tree.
Remember those special memories Valerie was looking forward to making that night?  Well, that little tree will always be one of them.  🙂