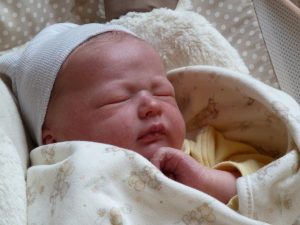 On the evening of July 3rd, Abigail got to be the very first visitor to see her new baby brother! Timothy Isaac Waller was born at 8:40 PM, weighing 9lbs and 21.5 inches long.
Valerie did an excellent job once again, and we were supported by an outstanding team of midwives at a birth center in Tyler. Timothy has been a really good baby, adjusting well to the big world outside Mamma.
First moments with Big Sister
In the video clip below, you can watch Abigail's response to meeting her little brother for the very first time. What a picture of excitement, wonder and awe at this little miracle!