On Monday our nation will celebrate our annual Labor Day holiday, a day usually marked by picnics and barbeques as American families enjoy one last long weekend before settling in to school schedules at the end of summer.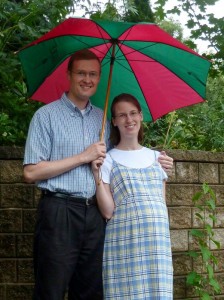 Valerie and I are anticipating another "labor day" of far greater significance for our family, and yet with a much less predictable calendar date! Our little one is due any time now, and we are eagerly looking forward to welcoming this new member of our family into the world.  🙂
These recent days have given me a new appreciation for the scriptures that speak of the Lord's return. "But of that day and hour knoweth no man, no, not the angels of heaven, but my Father only." — Matthew 24:36
We don't know the day or the hour that baby will come, but when that hour comes, we had better be ready!  🙂 We have our bags packed, a folder with all of our important papers, and a full tank of gas in our car. Rain or shine, day or night, we are ready for the trip to the hospital for baby's birth.

What a reminder of how important it is that we be ready for the Lord's return! Whether the Lord comes back in our lifetime, or whether death ushers us into His presence, all of us will one day face eternity. God has graciously offered the substitutionary death of Jesus Christ as the payment for the just penalty we owe for our sin, but only in this life will we have the opportunity to humbly accept this free gift. Are you ready for that day?
Attending birthing classes has been a fun adventure for Valerie and me. Although we are both from large families, it feels quite different when you are the parents. 🙂 I have gained a new appreciation for the advances of technology, and an increasing awe for the incredible way that God has designed our bodies for the natural childbirth process.
As we look forward to our "labor day", we would be grateful for your prayers for a safe and healthy delivery! We have made the preparations that we can, but ultimately trust the Lord to carry us through the grand adventure before us!