With the next generation of the Waller family growing quickly, we realized that there was perhaps a narrowing window of practical opportunity for us to travel together as an extended family. This fall we finalized plans for a three-and-a-half week trip to Israel, the land of the Bible. Our group of 14 represented three generations of  the Waller family, and included all but one of my siblings. (Rachelle and her family would have loved to join us, but had to decline due to the timing of the trip.)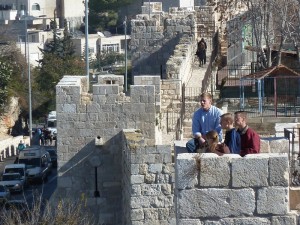 For us, this was not a spiritual pilgrimage, but rather an opportunity to see with our own eyes the land we read about in the pages of the Bible. It is one thing to read about the Sea of Galilee, but another to actually drive through the city of Tiberias, and eat a picnic lunch on the shore, and gaze up into the hill country where Jesus fed the five thousand.
I love the verses we find at the end of Psalm 48. Picture a father walking around the city of Jerusalem, pointing out to his children the landmarks and memorials that remind us of the great things that God has done through the ages.
"Walk about Zion, and go round about her: tell the towers thereof. Mark ye well her bulwarks, consider her palaces; that ye may tell it to the generation following. For this God is our God for ever and ever: he will be our guide even unto death." –Psalm 48:12-14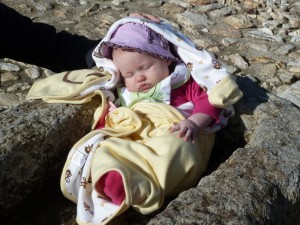 As a new father, I find this passage of particular significance as I ponder my responsibility to teach my children to know the God of the Bible.
In this picture, Abigail is sitting in a feeding trough at Megiddo, found in the ruins of Solomon's palace in this city.
Someday when Abigail is older, I look forward to going over these pictures with her and describing the significance of the places we carried her through at just three months old.